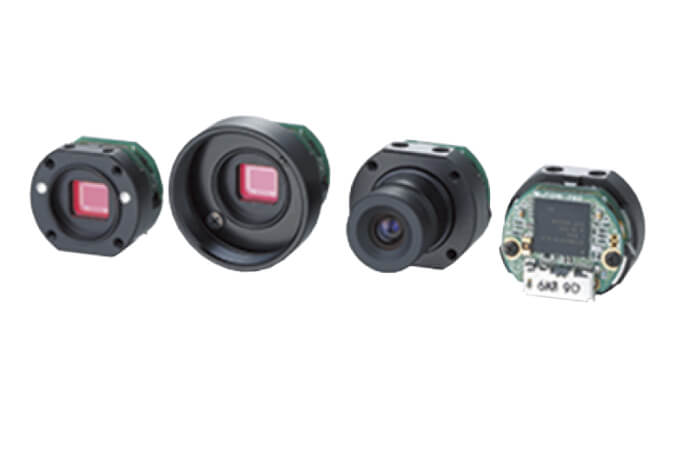 Kamera płytkowa
Niewielkie kolorowe kamery z przetwornikiem CMOS
Kamera USB Plug & Play (USB typu 3.0)
Kamera kompaktowa w formacie telewizyjnym (NTSC)
Idealna w wąskich przestrzeniach
Zmienne mocowania obiektywów
Modele i specyfikacja
| Produkt | Camera type | Number of pixels | Interface | Lens mount | Shutter type | Image width | Image height | Image sensor format | Image sensor type | Pixel size | Frame rate | Optical filter | Lens type | Scan type | Opis | |
| --- | --- | --- | --- | --- | --- | --- | --- | --- | --- | --- | --- | --- | --- | --- | --- | --- |
| | Monochrome | 12 MP | GigE | C-mount | Rolling | 4000 pixels | 3000 pixels | 1/1.7" | IMX226 | 1.85 µm | 9.2 fps | None | N/A | Area scan | Board level camera, 12MP, 9.2 fps, 4000 x 3000, 1/1.7" sensor, 1.85 x 1.85, IMX264, C mount, requires external power supply, monochrome | |
| | Monochrome | 12 MP | GigE | C-mount | Rolling | 4000 pixels | 3000 pixels | 1/1.7" | IMX226 | 1.85 µm | 9.2 fps | None | N/A | Area scan | Board level camera, 12 MP, monochrome, 9.2 fps, 4000x3000, 1/1.7" sensor, 1.85X1.85, IMX226, rolling shutter, PoE compatible, C mount | |
| | Monochrome | 1.6 MP | GigE | C-mount | Global | 1440 pixels | 1088 pixels | 1/2.9" | IMX273 | 3.45 µm | 70.7 fps | None | N/A | Area scan | Board level camera, 1.6 MP, monochrome, 69 fps, 1440x1088, 1/2.9" sensor, 3.45X3.45, IMX273, global shutter, not PoE compatible, C mount | |
| | Monochrome | 1.6 MP | GigE | S-mount | Global | 1440 pixels | 1088 pixels | 1/2.9" | IMX273 | 3.45 µm | 70.7 fps | None | N/A | Area scan | Board level camera, 1.6 MP, monochrome, 69 fps, 1440x1088, 1/2.9" sensor, 3.45X3.45, IMX273, global shutter, not PoE compatible, S mount | |
| | Monochrome | 1.6 MP | GigE | C-mount | Global | 1440 pixels | 1088 pixels | 1/2.9" | IMX273 | 3.45 µm | 70.7 fps | None | N/A | Area scan | Board level camera, 1.6 MP, monochrome, 69 fps, 1440x1088, 1/2.9" sensor, 3.45X3.45, IMX273, global shutter, PoE compatible, C mount | |
| | Monochrome | 1.6 MP | GigE | S-mount | Global | 1440 pixels | 1088 pixels | 1/2.9" | IMX273 | 3.45 µm | 70.7 fps | None | N/A | Area scan | Board level camera, 1.6 MP, monochrome, 69 fps, 1440x1088, 1/2.9" sensor, 3.45X3.45, IMX273, global shutter, PoE compatible, S mount | |
| | Monochrome | 2 MP | GigE | C-mount | Global | 1624 pixels | 1240 pixels | 1/1.7" | IMX430 | 4.5 µm | 54.6 fps | None | N/A | Area scan | Board level camera, 2 MP, monochrome, 54.6 fps, 1624x1240, 1/1.7" sensor, 4.5X4.5, IMX430, global shutter, not PoE compatible, C mount | |
| | Monochrome | 2 MP | GigE | S-mount | Global | 1624 pixels | 1240 pixels | 1/1.7" | IMX430 | 4.5 µm | 54.6 fps | None | N/A | Area scan | Board level camera, 2 MP, monochrome, 54.6 fps, 1624x1240, 1/1.7" sensor, 4.5X4.5, IMX430, global shutter, not PoE compatible, S mount | |
| | Monochrome | 2 MP | GigE | C-mount | Global | 1624 pixels | 1240 pixels | 1/1.7" | IMX430 | 4.5 µm | 54.6 fps | None | N/A | Area scan | Board level camera, 2 MP, monochrome, 54.6 fps, 1624x1240, 1/1.7" sensor, 4.5X4.5, IMX430, global shutter, PoE compatible, C mount | |
| | Monochrome | 2 MP | GigE | S-mount | Global | 1624 pixels | 1240 pixels | 1/1.7" | IMX430 | 4.5 µm | 54.6 fps | None | N/A | Area scan | Board level camera, 2 MP, monochrome, 54.6 fps, 1624x1240, 1/1.7" sensor, 4.5X4.5, IMX430, global shutter, PoE compatible, S mount | |
| | Monochrome | 20 MP | GigE | C-mount | Rolling | 5472 pixels | 3648 pixels | 1" | IMX183 | 2.4 µm | 5.5 fps | None | N/A | Area scan | Board level camera, 20MP, 5.5 fps, 5472 x 3648, 1" sensor, 2.4 x 2.4, IMX183, C mount, requires external power supply, monochrome | |
| | Monochrome | 20 MP | GigE | C-mount | Rolling | 5472 pixels | 3648 pixels | 1" | IMX183 | 2.4 µm | 5.5 fps | None | N/A | Area scan | Board level camera, 20 MP, monochrome, 5.5 FPS, 5472x3648, 1" sensor, 2.4X2.4, IMX183, rolling shutter, PoE compatible, C mount | |
| | Monochrome | 2.1 MP | GigE | C-mount | Rolling | 1920 pixels | 1080 pixels | 1/2.8" | IMX291 | 2.9 µm | 53 fps | None | N/A | Area scan | Board level camera, 2.1MP, 53 fps, 1900 x 1080, 1/2.8" sensor, 2.9 x 2.9, IMX264, C mount, requires external power supply, monochrome | |
| | Monochrome | 2.1 MP | GigE | S-mount | Rolling | 1920 pixels | 1080 pixels | 1/2.8" | IMX291 | 2.9 µm | 53 fps | None | N/A | Area scan | Board level camera, 2.1 MP, monochrome, 53 fps, 1920x1080, 1/2.8" sensor, 2.9X2.9, IMX291, rolling shutter, not PoE compatible, S mount | |
| | Monochrome | 2.1 MP | GigE | C-mount | Rolling | 1920 pixels | 1080 pixels | 1/2.8" | IMX291 | 2.9 µm | 53 fps | None | N/A | Area scan | Board level camera, 2.1 MP, monochrome, 53 fps, 1920x1080, 1/2.8" sensor, 2.9X2.9, IMX291, rolling shutter, PoE compatible, C mount | |
| | Monochrome | 2.1 MP | GigE | S-mount | Rolling | 1920 pixels | 1080 pixels | 1/2.8" | IMX291 | 2.9 µm | 53 fps | None | N/A | Area scan | Board level camera, 2.1 MP, monochrome, 53 fps, 1920x1080, 1/2.8" sensor, 2.9X2.9, IMX291, rolling shutter, PoE compatible, S mount | |
| | Monochrome | 3.2 MP | GigE | C-mount | Global | 2048 pixels | 1536 pixels | 1/1.8" | IMX265 | 3.45 µm | 34.9 fps | None | N/A | Area scan | Board level camera, 3.2 MP, monochrome, 34.9 fps, 2048x1536, 1/1.8" sensor, 3.45X3.45, IMX265, global shutter, not PoE compatible, C mount | |
| | Monochrome | 3.2 MP | GigE | S-mount | Global | 2048 pixels | 1536 pixels | 1/1.8" | IMX265 | 3.45 µm | 34.9 fps | None | N/A | Area scan | Board level camera, 3.2 MP, monochrome, 34.9 fps, 2048x1536, 1/1.8" sensor, 3.45X3.45, IMX265, global shutter, not PoE compatible, S mount | |
| | Monochrome | 3.2 MP | GigE | C-mount | Global | 2048 pixels | 1536 pixels | 1/1.8" | IMX265 | 3.45 µm | 34.9 fps | None | N/A | Area scan | Board level camera, 3.2 MP, monochrome, 34.9 fps, 2048x1536, 1/1.8" sensor, 3.45X3.45, IMX265, global shutter, PoE compatible, C mount | |
| | Monochrome | 3.2 MP | GigE | S-mount | Global | 2048 pixels | 1536 pixels | 1/1.8" | IMX265 | 3.45 µm | 34.9 fps | None | N/A | Area scan | Board level camera, 3.2 MP, monochrome, 34.9 fps, 2048x1536, 1/1.8" sensor, 3.45X3.45, IMX265, global shutter, PoE compatible, S mount | |
Zresetuj wszystkie filtry
Porównaj produkty
Pokaż więcej produktów:
Jak możemy Ci pomóc?
W razie pytań lub chęci przesłania prośby o wycenę skontaktuj się z nami lub wyślij zlecenie.
+48 22 458 6666
Skontaktuj się z nami
Proszę o kontakt Kamera płytkowa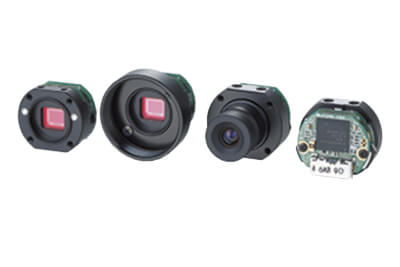 Dziękujemy za wysłanie zapytania. Otrzymasz od nas odpowiedź tak szybko, jak to tylko będzie możliwe.
Problem techniczny. Akcja nie została wykonana. Przepraszamy - spróbuj ponownie.
Download
Zapytaj o ofertę
Zapytaj o ofertę
Oferta dla Kamera płytkowa
Poniżej możecie Państwo wysłać zapytanie cenowe dotyczące naszych produktów. Prosimy wypełnić wszystkie pola oznaczone *. Twoje dane osobowe będą oczywiście traktowane jako poufne.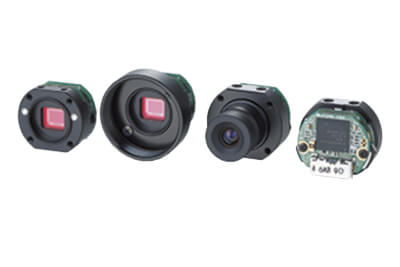 Dziękujemy za zlecenie wyceny. Dostarczymy Ci niezbędnych informacji tak szybko, jak to tylko będzie możliwe.
Problem techniczny. Akcja nie została wykonana. Przepraszamy - spróbuj ponownie.
Download
Cechy
Czym jest Analog?
Fotografia analogowa jest terminem powszechnie używanym w fotografii, w której wykorzystuje się stopniowo zmieniający się nośnik zapisu, który może być oparty na procesach chemicznych (np. kliszy fotograficznej lub płycie) lub elektronicznych (na przykład czujnik vidicon lub CCD). W powszechnym użyciu określenie to oznacza coś, co nie jest "cyfrowe", pomimo pewnych kontrowersji, że użycie kliszy fotograficznej nie jest prawdziwym procesem "analogowym".
W przypadku kamer filmowych wykorzystujących proces żelatynowo-srebrny światło padające na emulsje fotograficzne zawierające halogenki srebra jest rejestrowane jako obraz utajony. Obraz utajony poddawany jest obróbce fotograficznej, dzięki czemu staje się widoczny i niewrażliwy na światło.
W kamerze wideo lub aparacie cyfrowym sygnał przechwytywany jest przez lampę kamery wideo lub czujnik sprzężonego ładunku, który wysyła obraz do przetworzenia przez elektronikę aparatu. Sygnał może być przesyłany lub nagrywany na urządzeniu pamięciowym do późniejszego odtwarzania.
Czym jest standard NTSC?
NTSC, oznaczający Komitetu Krajowego Systemu Telewizyjnego, to analogowy system telewizyjny, który jest używany w większości Ameryki Północnej, części Ameryki Południowej (z wyjątkiem Brazylii, Argentyny, Urugwaju i Gujany Francuskiej), Myanmar, Korei Południowej, Tajwanu, Japonii, Filipin i niektórych wysp oraz terytoriów wysp Pacyfiku.
Czym jest rozdzielczość?
Rozdzielczość obrazu to szczegół, który zawiera obraz. Termin odnosi się do cyfrowych obrazów rastrowych, obrazów kliszy fotograficznej i innych rodzajów obrazów. Wyższa rozdzielczość oznacza więcej szczegółów obrazu. Rozdzielczość obrazu można mierzyć na różne sposoby. Zasadniczo rozdzielczość określa, jak blisko siebie mogą znajdować się linie, aby mogły być nadal widoczne. Jednostki rozdzielczości mogą być powiązane z rozmiarami fizycznymi (np. linie na mm, linie na cal), z całkowitym rozmiarem obrazu (linie na wysokość obrazu, znane również jako linie, linie TV lub TVL) lub z kątowym obiektem podrzędnym. Pary linii są często używane zamiast linii; para linii zawiera ciemną linię i sąsiednią linię świetlną. Linia jest albo ciemną linią, albo linią świetlną. Rozdzielczość 10 linii na milimetr oznacza 5 ciemnych linii na przemian z 5 liniami świetlnymi lub 5 par linii na milimetr (5 LP / mm). Rozdzielczość obiektywów i klisz fotograficznych jest najczęściej podawana w parach linii na milimetr.