Poznaj współpracowników nowej generacji
Zwiększ wydajność pracowników
Wyobraź sobie, że masz wszystkie potrzebne Ci ręce do pracy, aby utrzymać ciągłość produkcji i sprostać popytowi. Szukasz dodatku do swojego zespołu, aby zwiększyć wydajność? Poznaj nową generację współpracowników.
Roboty współpracujące są łatwe w konfiguracji i stanowią szybkie i ekonomiczne rozwiązanie. Mogą one zwiększyć elastyczność, jakość i szybkość produkcji, a także umożliwić Twojej firmie błyskawiczne reagowanie na zmieniające się warunki rynkowe.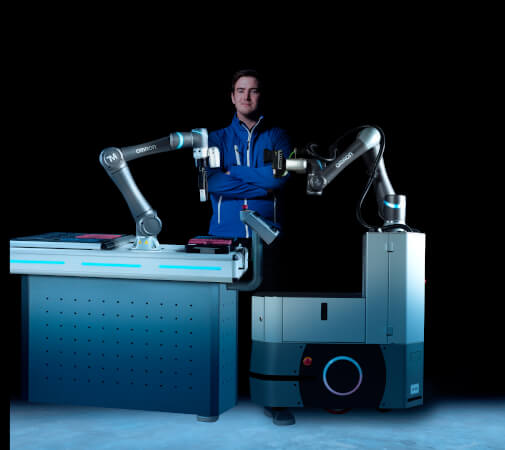 Łatwe uruchamianie
Aby skrócić czas przestojów i zautomatyzować pracę robotów, potrzebny jest robot, który jest w stanie szybko się uruchomić i pracować bez przerw. Nasze roboty współpracujące są dostarczane ze wszystkimi elementami niezbędnymi do rozpoczęcia pracy, natychmiast po wyjęciu z opakowania.
Niskie koszty eksploatacji
Roboty współpracujące OMRON zapewniają najwyższy zwrot z inwestycji. W ciągu kilku minut mogą elastycznie dostosowywać się do nowych procesów produkcyjnych i układów.
Elastyczność
Roboty współpracujące OMRON TM zostały zaprojektowane z myślą o łatwym wdrożeniu w różnych zadaniach i zastosowaniach, co w razie potrzeby zapewnia elastyczność produkcji.
Praca w harmonii
Nasze roboty współpracujące szybko się uczą i są w stanie zwiększyć wydajność produkcji. Wystarczy kilka minut, aby nauczyć je, jak dzielić się zadaniami z pracownikami i elastycznie dostosowywać się do nowych wymagań. Skorzystaj z zalet zintegrowanych funkcji bezpieczeństwa, które umożliwiają im pracę z pracownikami lub blisko nich, a także zwiększają wydajność w przypadku wielu powtarzalnych zadań.
Obejrzyj film
Omron's factory in Shanghai is creating an environment where people and robots work together, to meet challenges in manufacturing today, such as shortage in manpower and overall equipment effectiveness (OEE). In this video, you can see how Omron TM collaborative robots work safely side-by-side with people.

04:46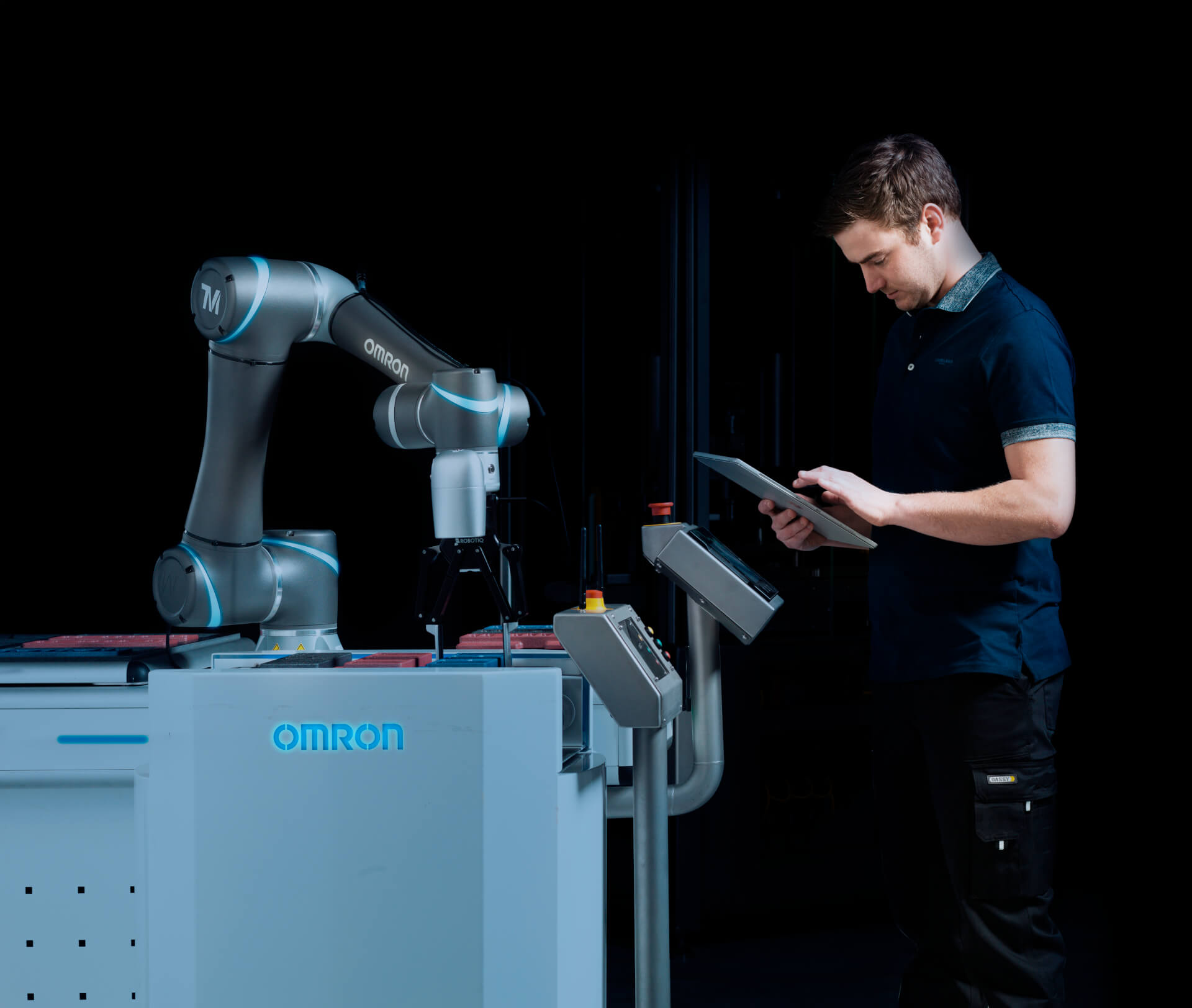 Zastosowania
Niezależnie od tego, czy produkujesz samochody, artykuły spożywcze, opakowania, tworzywa sztuczne, obrabiarki czy leki, robot współpracujący OMRON TM jest przeznaczony do niemalże każdej branży.
Chcesz dowiedzieć się więcej o naszych robotach współpracujących?
Bezpieczeństwo w zastosowaniach urządzeń współpracujących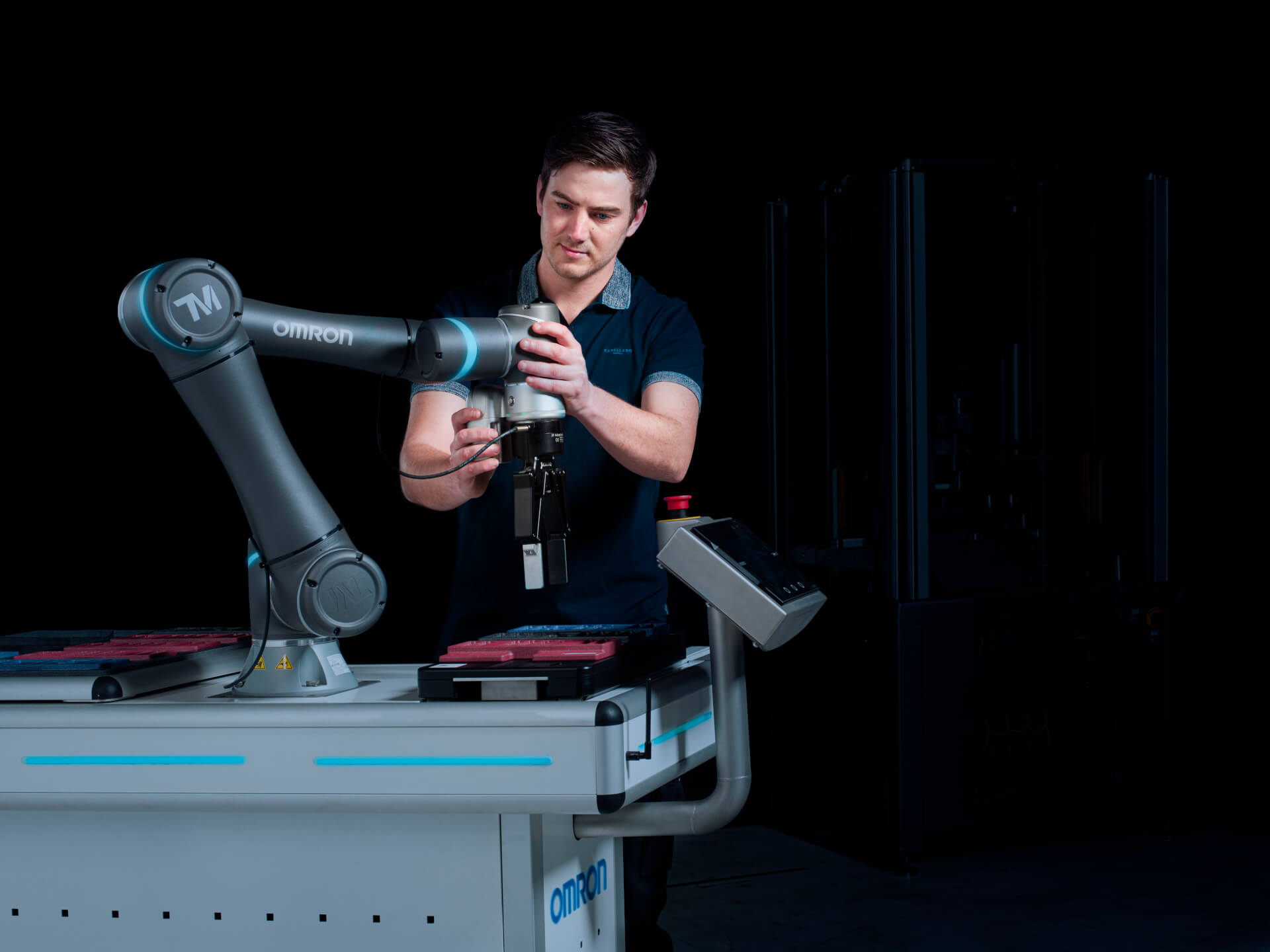 Roboty współpracujące mają zintegrowane funkcje bezpieczeństwa, które umożliwiają im ścisłą współpracę z ludźmi, a jednocześnie zwiększają wydajność w zakresie wielu wymagających i powtarzalnych zadań.
Roboty współpracujące są łatwe we wdrożeniu i adaptacji do nowych sytuacji i ściśle współpracują z dotychczasowymi pracownikami. Dzięki temu możliwe jest odciążenie pracowników, którzy zyskują większą ilość czasu, aby w pełni wykazać się swoimi umiejętnościami w zakresie kreatywnych i wymagających zadań.
Nasze roboty współpracujące zostały zaprojektowane zgodnie z normami bezpieczeństwa ISO 10218-1 i ISO 10218-2 oraz specyfikacją techniczną ISO TS-15066 w celu określenia wymaganych funkcji bezpieczeństwa i wydajności. Pobierz nasz raport techniczny, aby zapoznać się ze standardami branżowymi, najlepszymi praktykami w zakresie oceny ryzyka i strategiami zwiększającymi wartość danego zastosowania.
Usługa oceny ryzyka
Nasz zespół służy pomocą w zakresie wdrożenia robotów do załogi. Cały proces rozpoczyna się od usługi oceny ryzyka w celu zminimalizowania potencjalnych zagrożeń dla bezpieczeństwa produkcji. Nasi inżynierowie ds. bezpieczeństwa dysponują niezrównaną wiedzą specjalistyczną umożliwiającą im pracę na miejscu, a także są w stanie określić odpowiednie normy i wymagania dotyczące interakcji człowieka z maszyną.
Poznaj współpracowników nowej generacji
Gama robotów współpracujących firmy OMRON obejmuje szereg modeli, które gwarantują odpowiedni zasięg i udźwig do różnych zastosowań.
Zasięg
Udźwig
Maks. prędkość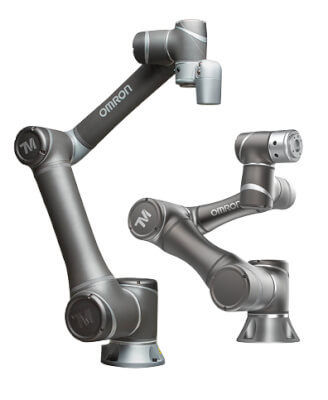 TM 5 — 700
Zasięg

700 mm

Udźwig

6 kg

Maks. prędkość

1,1 m/s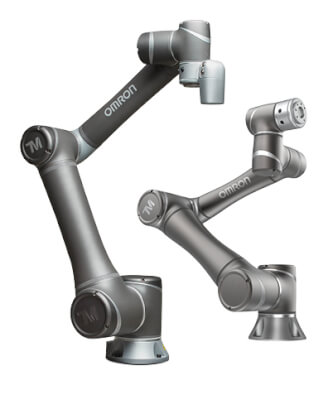 TM 5 — 900
Zasięg

900 mm

Udźwig

4 kg

Maks. prędkość

1,4 m/s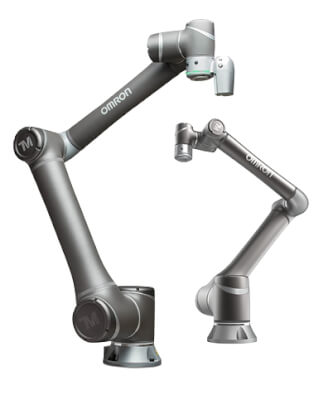 TM 12
Zasięg

1300 mm

Udźwig

12 kg

Maks. prędkość

1,3 m/s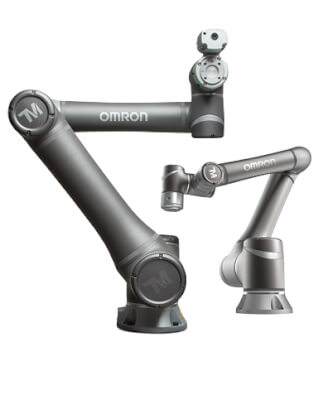 TM 14
Zasięg

1100 mm

Udźwig

14 kg

Maks. prędkość

1,1 m/s